Dayaal Singh Scores Gold and Samuel Fu Takes Bronze at 2019 Premier Winter Fencing Tournament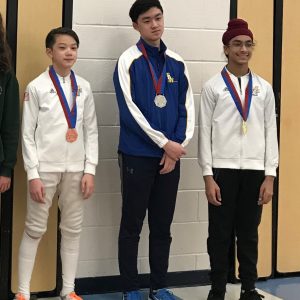 Origin athletes Dayaal Singh (far right) and Samuel Fu (far left) crowded the podium at the 2019 Premier Winter RYC/RCC Tournament in Burlington, NJ with respective gold and bronze medal victories. Singh and Fu rose to the top of a field of 28 competitors from Pennsylvania, New York and New England to claim their podium spots in the Cadet Men's Foil event January 5, 2019.
Singh's gold medal victory earned him a B19 rating, and Fu's bronze victory earned him a C19 rating.
Both fencers' victories speak to their discipline and ability to build upon their natural skills, according to their trainer Cisco Javier.
"Dayaal has steadily improved both his strength and conditioning, while also developing the right mindset for competition. He balances his attacking style with a strategic and tactical all-around fencing gameplan. His dedication to cross-training in various martial conditioning principles at Origin is helping him develop a well rounded, 3-dimensional fencing game."
"Samuel, although only training at Origin for a couple of months, has hit the ground fast. Applying a quiet and focused approach, he's benefitting from the increase in strength, power and energy system development to enhance his fencing skills. He, too, has improved his hand speed and coordination from the cross-training effect derived from multiple martial conditioning principles, as well as gaining a broader strategic and tactical perspective."
Congratulations Dayaal and Sam!