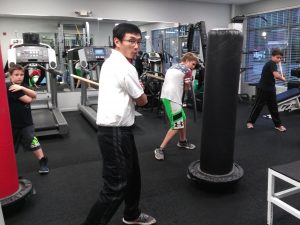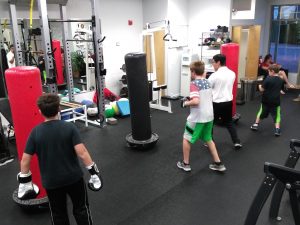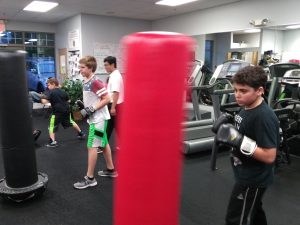 We are proud to announce Origin's newest class, and our first class specifically for our youth bracket – Youth Conditioning and Self-Defense. Led by Origin trainer Frank Zhong, this 45 minute class for ages 10-18 is a strength and conditioning class incorporating martial arts and self-defense techniques.
Set the stage for lifelong healthy habits while gaining discipline, confidence, awareness and social understanding. Develop balance, hand-eye coordination, power and agility via strength training and a blend of Filipino martial arts training, including the Balintawak system used by soldiers and law enforcement professionals. Mentally, learn to work hard, believe in yourself and stay focused under pressure. Foster physical and mental strength to defend yourself when needed and to manage life's challenges: from school, to sports, to friends. The focus is on how to defend yourself, not how to fight. Equipment used in class includes heavy bags and eskrima sticks.
Creating this class was a natural fit for Frank, as it blends his love of strength and conditioning, passion for martial arts and desire to make a difference.
Origin: "What inspired you to create and teach this class, Frank?"
Frank: "I am reminded daily of the debt of gratitude that I owe to my teachers in different crafts,and this is my way of helping to preserve their legacies, teaching methodologies, and knowledge. The knowledge taught in this class is something I enjoy seeing passed on to fresh young minds."  
Origin: "Why include a self-defense component?"
Frank: "I believe that this class can help our youth with many problems simultaneously, ranging from keeping kids active, to helping them train their confidence, and teaching them valuable skills to keep themselves safe."  
Origin: "What do you enjoy most about teaching this class?"
Frank: "I enjoy seeing the students discover capabilities that they did not know they had. They also learn to push themselves to a state that they did not know they could attain with their effort. It is great to help guide them in a class where they exceed what they thought were their limits."
The fall session is currently underway. Sign up for Youth Conditioning and Self-Defense is done week by week. Classes are $35 each.