Origin Athlete Victoria Pevzner Takes Gold at National Fencing Tournament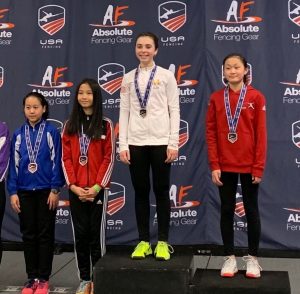 'V' again stands for 'Victory' for Origin athlete Victoria Pevzner (photo center) who claimed the gold medal in the Y-12 Women's Foil Event at the March North American Cup in Cleveland, Ohio, March 4, 2019. Pevzner out-fenced a skilled field of 97 competitors from coast-to-coast to take her place at the top of the podium.
Pevner's victory was especially hard-fought as she overcame an injury a few weeks prior to competition that limited her practice time. During her training at Origin in those final weeks, Pevzner's sports performance trainer and Origin founder, Cisco Javier, adapted her mental and physical game. "I prepared her mentally to be realistic about her performance. With less nerves, her competition mindset eventually took over. She won a string of bouts, gained confidence and used that momentum to win gold. This experience proved to her that she's never out of a fight…she improvised, adapted and adjusted her game to align both her skill and mindset to victory."
Pevzner's ascent to the top of the podium comes after a silver medal victory in a previous national fencing event, proving her to be an athlete with skill, grit, solid training and unstoppable momentum.
Congratulations Victoria!